Back in 2003, I took a dramatic decision that put my mental stability under a big question mark in the eyes of my family and loved ones (hard to blame them…):
I decided quitting my day job – and my career – as a Certified Public Accountant (CPA).
It was a pretty hard call: My wife (then) was carrying our first baby, and only a year before we moved to a big city, far away from our supporting families.
Also, I spent 5 years to get a degree and my CPA license, and lots of money and efforts as well. But I felt stuck. I was working plenty of hours for an average salary, barely making it through our monthly expenses.
The future seemed uncertain…
The book that triggered this seemingly eccentric decision was "Rich dad, Poor dad" by Robert Kiyosaki. And since then, a long journey of entrepreneurship, with many ups and downs, has begun.
In summer 2003, me and a close friend decided to found "CashFlow Club Israel". Our goal was to gather people to play the CA$HFLOW 101 game and develop financial literacy.
Soon it turned out to be a huge success, with many people coming to play the game, and right after taking our courses and seminars about Real estate, Financial Markets, Entrepreneurship, Business, and more. Over 10,000 students studied with us over the years!
In October 2007 we had the honor to take part in hosting Mr. Robert Kiyosaki and his wife Mrs. Kim Kiyosaki in Israel.
In 2007 I also co-founded "Clickim", the 1st Internet Marketing school in Israel, that offered a variety of online courses for financial freedom through internet business.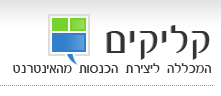 In 2009 I co-founded the "Davos – The High Net Worth Academy" which competed head to head with academic MBA programs, offering academic level courses but more focused on practical aspects entrepreneurship and investing.

Since 2013 I am running "Realize", a private Investors club, which is involved in joint-investments in Real estate, Start-ups and various ventures, project funding, private placement programs and I also operated the Social Trading Community Leaders Program.
I'm married to Mazi, a very talented lawyer (someone needs to be serious in the family… :), and father of 4 children.
I look forward to collaborating with you and hope that you find the content here interesting and useful.